WELCOME TO CLASS 2'S PAGE!
Mrs Huntingford & Miss Dean
Summer Term 2022
Welcome to the final term of the school year! We hope you all had an EGG-cellent Easter break and ate lots of chocolate along the way!
This term, you lucky lot have Miss Dean teaching you on a Friday and I'm sure you are all very excited to learn lots of new things from her.
We are really looking forward to working with you all again this term. Have a look below to see what fun we have in store for you all...
The BIG QUESTION
This term, our big question is:
From Nottingham Forest to Sherwood Forest - Why is Nottingham Great?
As always, Google doesn't hold the answer to our big question so we are going to
to have to find our own answers!

We are going to be looking at the fantastic city in which we live and exploring
why Nottingham is so wonderful. We will also be looking at our beautiful village -
Kinoulton - and the other lovely villages surrounding it.
For your holiday homework, we asked you to visit somewhere in Nottingham and
tell us all about it - we can't wait to hear about your experiences!
So that you can have a headstart and begin to explore our BIG question, I have put some websites below for you to have a look at!
History
Nottingham is famous for Robin Hood. Robin Hood is a legend. Legends are stories which are handed down through generations and whilst they aren't completely true and factual, they are based on reality.
Click the picture below to hear the tale of Robin Hood.
Geography
It is important for us to understand where Nottingham is in relation to the rest of England and the UK.
Click on the picture below and launch Google Earth.
With an adult, can you find the UK?
Once you have located the UK, can you find out the names of the 4 countries
which make up the United Kingdom?
Then, can you find Nottingham?
I will be really impressed if you can zoom in to where you live!
Story Time
In English, we are going to be looking at some dragon stories. Click on the picture below to see the author Julia Donaldson read Zog - one of my favourite dragon stories!
You will need to scroll down the page and click where it tells you to so you can watch Julia Donaldson and friends read and perform the story.
Did you enjoy the story? Why or why not? Come and talk to me about it at school.
Topic Overview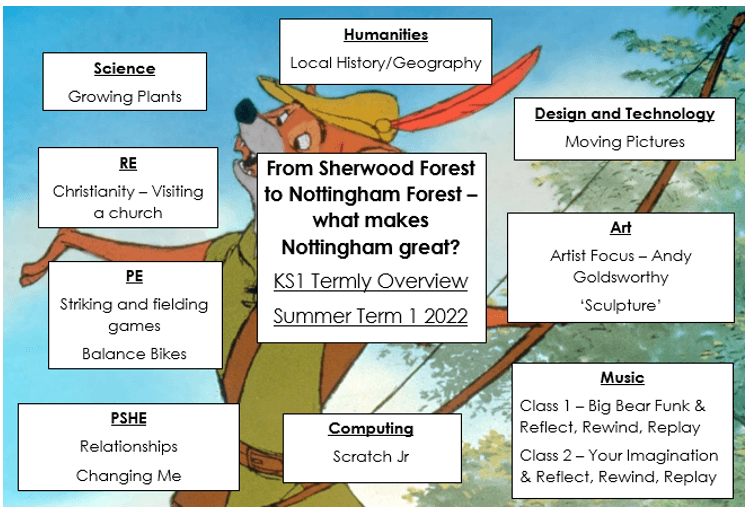 Recommended Reads
Don't know what to read? I am recommending the following books for you to read.
How many can you read?
Come and tell me about your favourite story.
If you read anything that you think is brilliant, please come and tell me so that I can share it with the class!
Year 1:
*The Emperor of Absurdia - Chris Riddell
*Mr Magnolia - Quentin Blake
*The Tiger Who Came to Tea - Judith Kerr
*The Owl Who Was Afraid of the Dark - Jill Tomlinson
*Sophie's Adventures - D. King Smith
Year 2:
*Marge in Charge - Isla Fisher
*Martin's Mice - D. King Smith
*Flat Stanley - Jeff Brown

*A Planet Full of Plastic - Neal Layton
*The Naughtiest Unicorn - Pip Bird
Times Tables
Download the sheets below so you can practice your times tables